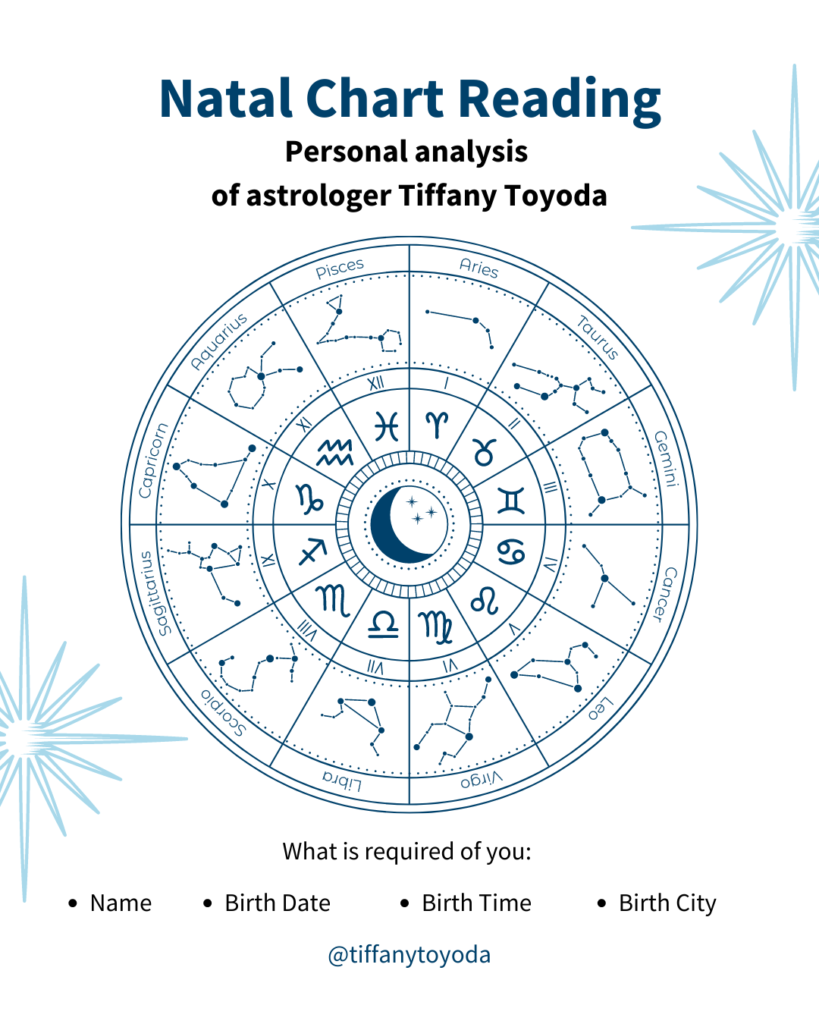 Get your own Natal Chart Reading by Tiffany
What is included:
Readings for your Big 3
Inner planets: Mercury, Mars, Venus
Outer planets: Jupiter, Saturn, Uranus, Neptune
Midheaven, North & South Nodes
Plan the next year:
Your month by month focus
Find out which area of life the retrogrades this year will influence
What is required of you:
Your Name
Birthday
Birth time
Birth City
Contact me via FB messenger, Instagram DM or message me at hi@tiffanytoyoda.com with your:
Name
Birthday
Birth time
Birth City
I will work on your chart once I receive these details.
If you want to cancel this service, you can do so before you send me your personal details. Once I receive your details, there will be no refunds and cancellations, as I would be putting in the work to deliver your product. Any Qs? Send me a message on Insta, FB or email.
星読みチャートリーディング

以下が含まれています:
あなたのビッグ3の読み解き
内惑星:水星、火星、金星
外惑星:木星、土星、天王星、海王星
ミッドヘブン、ノースノード、サウスノード
次の1年の計画:
月ごとの焦点
今年の逆行が影響を及ぼす人生のエリア
必要な情報:
これらの詳細をFBメッセンジャー、Instagram DM、またはhi@tiffanytoyoda.comのメッセージで連絡してください:
これらの詳細を受け取り次第、あなたのチャートを作成いたします。
このサービスをキャンセルしたい場合は、個人情報を送信する前にキャンセルできます。一度情報を受け取った後は、商品を提供するための作業を行っているため、返金やキャンセルはできません。ご質問がある方はInsta、FB、LINE、またはメールで受け付けてます。
Buy now 今すぐ購入: